Watching a loved one suffer through any form of dementia is always very difficult. It can often leave us feeling helpless, stressed, confused, sad and angry. Though it may not be happening to us, we feel effects from it in someone else. It can be extremely hard to put in the time and effort to care for a loved one when they are going through dementia. Nonetheless, we likely don't have the proper training, experience, and medical knowledge to provide proper, effective care.
Finding the Best Dementia Care for Your Loved One
Symptoms of dementia may start out seeming pretty harmless or like simple forgetfulness that we have all experienced at some point in our lives. Whether that is forgetting to pay bills, trouble keeping track of a purse or wallet, or remembering appointments. It is important to pay attention to these and monitor if they become more severe and hindering. 
The brain is incredibly complex and the triggering of a decline in cognitive function is something that trained professionals are most properly equipped to handle. This is especially true when it gets to the point where the affected person does not have access to 24/7 assistance. If your loved one is at this stage, they can greatly benefit from coming to live at Palm Cottages. We have a full-service memory care unit in our assisted living facility that will specialize in many forms of dementia care and treatment.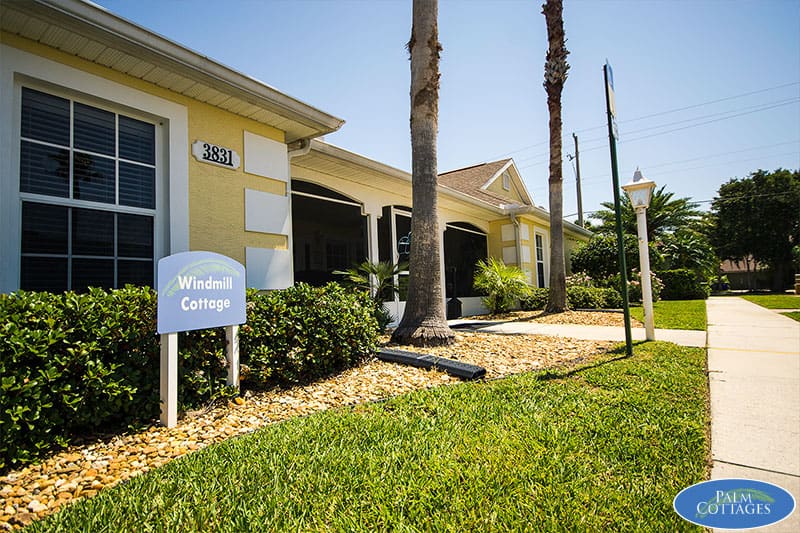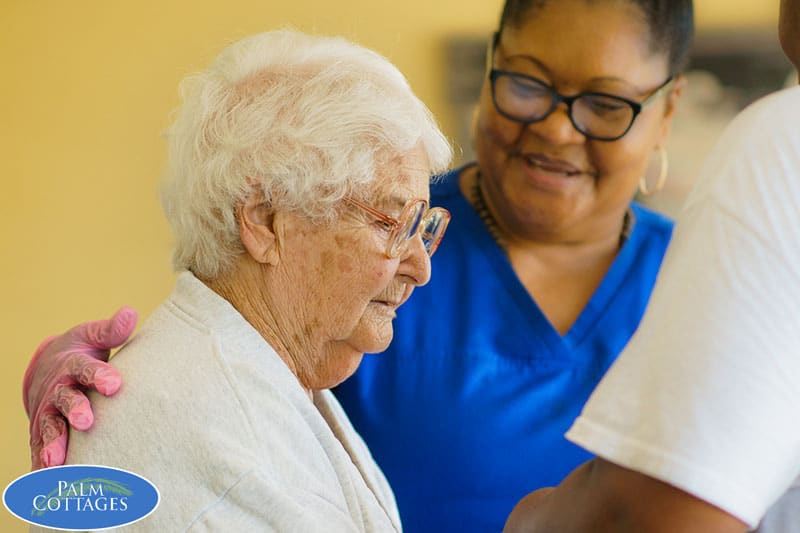 Choosing Palm Cottages' Dementia Care Facility
If your loved one is going through difficult times with dementia, you are likely feeling tremendous stress and a heavy burden. We encourage you to give us a call and ask us about our assisted living facility and dementia care services. They are extremely important when it comes to the well-being of your loved one.  Here at Palm Cottages, we have a saying "happy aging is our agenda". And it couldn't be more true. We do all we can to enhance the quality of life for our residents, no matter what kind of dementia trouble they are going through.
It can be a scary thing for a dementia patient to leave their home and come to an assisted living center. But ours is different! We have comfortable, quaint, unique cottage-style housing that provides a greater sense of comfort. For our dementia residents, there is a courtyard that connects the cottages so they can get outside in a safe environment to socialize and enjoy the fresh air when possible. We have our residents engage in the community by providing plenty of activities for them to enjoy. We also have specially designed programs to help treat their condition. We truly can make a difference in their lives, reducing stress and anxiety in your life. Your loved one will be in great hands.
Our residents are encouraged to participate in activities and programs throughout the day.

Our Resident Care staff have completed comprehensive training in order to provide the specialized care and services that these residents benefit from.

Our Memory Care cottages are connected by a courtyard area, which allows our residents the freedom to safely take outdoor strolls.
Find Your Loved One's New Home
Please give Palm Cottages a call so we can further discuss your needs in detail. We also invite you to schedule a tour of our cottages to see the wonderful community that we have created. Between our caring staff and our residents, you will feel a weight lifted off your shoulders knowing that your loved one is in the comfort of professionals and a tight knit community.
Serving Residents All Over Florida Including: