Senior Assisted Living Services
If you are in the Orlando and are looking for an assisted living facility for your loved one, you have come to the right place. We are located in Rockledge but proudly serve the Orlando elderly community in need of an assisted living facility. We welcome our Orlando neighbors as our own and ensure that quality care is given, while allowing our residents to carry out certain activities on their own to maintain their independence.
If you are wondering if moving your loved one to Palm Cottages from Orlando is worth it, there are a few things to consider. Though the drive is a little bit further than a quick 10 to 20 minute drive, it is important to consider the quality of life of your loved one. It has been found that among many factors involved with assisted living facilities, that the actual facility itself matters. The setting can help sway a person's mood. Studies show that a cluster of homes is more effective at boosting quality of life than a single, large facility. Palm Cottages design is just that! A bunch of cottage-style homes that are unique, quaint, and inviting. It's more like spending time on a vacation than in a big building with florescent lights pretending to be sunlight.
However, don't let this fool you. We are still a fully-capable, full-service assisted living facility that is actually an ECC licensed facility, providing care that goes above and beyond.
What Makes Us Unique
Not only are we a fully functional cottage-style assisted living facility, but we provide a living arrangement that is part of a community. Additionally, social setting is crucial in maintaining a higher quality of life for aging residents, and our little village provides plenty of opportunities to socialize. We also make sure to provide cottage units that are accessible and have an atmosphere where our welcomed Orlando residents can feel comfortable, welcomed, and relaxed.
To maximize our assisted living services, our facility staffs a number of professionals who are excellent at interacting with, assisting and caring for our residents. We keep enough workers on staff to maintain an excellent staff-to-resident ratio. Our staff learns all about each resident for the best care and attention possible. Even our chefs go above and beyond in becoming acquaintances to our residents. To extend their excellent service even further, they cook delicious meals that our residents get to enjoy night after night. We really do want our residents to thrive here at Palm Cottages and enjoy life to the fullest!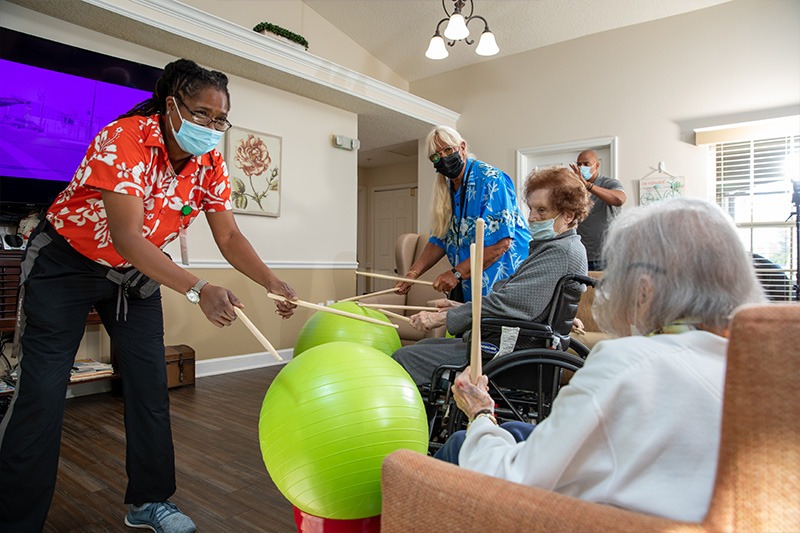 We have various activities and programs that we encourage our residents to participate in!

Our staff has completed all necessary and comprehensive training to provide quality, professional care so the residents can have the best quality of life at Palm Cottages.

Our memory care patients have cottages that are connected by an outdoor courtyard so they can get outside and safely enjoy fresh air and nature and enjoy socializing with other residents.

We have an ECC license given to assisted living facilities that provide care that goes beyond requirements.

Location within a days drive
Contact Palm Cottages!
All that's left to do is see for yourself. If you are in the Orlando, FL area, give us a call or request a tour. We are not far and always glad to welcome our Orlando neighbors to our cottages. You can schedule a guided tour to come see all the wonderful things that Palm Cottages has to offer. We have a motto here, "happy aging is our agenda", and it couldn't be more true! We truly provide a wonderful place for your loved ones to live. Treat your loved one and yourself knowing that they will be in wonderful care, in a peaceful environment, surrounded by the best people. We look forward to meeting you. Please check out our Gallery to see some of our happy residents in action!