If you are in Viera West, FL looking for a senior care facility, rely on the unique assisted living facility that is Palm Cottages. We are a network of cottage-style housing, specifically designed to be unique, inviting and relaxing. Unlike large U-shaped brick facilities, our cottages simply feel more homey and community oriented without sacrificing on the quality of care provided.
We offer a number of activities and programs every day for residents to participate in, allowing them to be social and active frequently.

Proper, specialized care is a top priority at Palm Cottages. Our entire Resident Staff has completed comprehensive training to best serve and tend to the needs of all residents.

Our memory care cottages are connected by a courtyard area, allowing residents the freedom to safely take outdoor strolls as they please.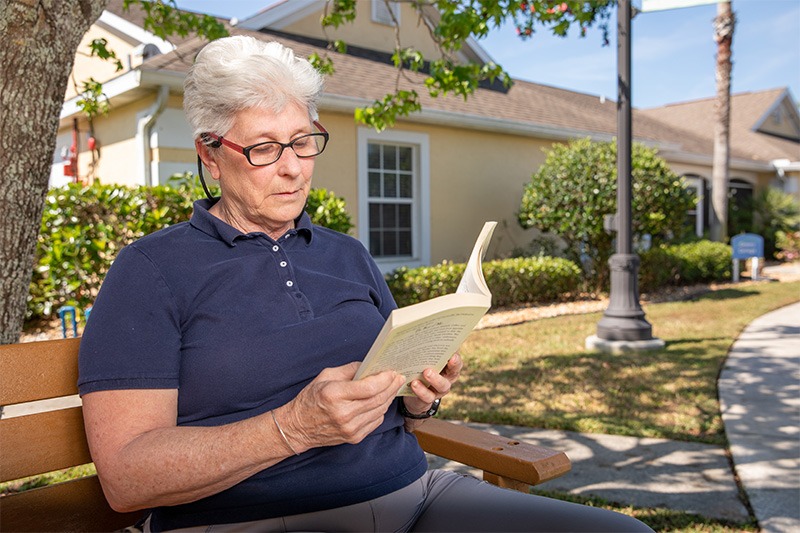 Our Senior Care Facility Maintains Independence
One of the most difficult things is having to place a loved one in a senior care facility. Many times, the resident doesn't want to go, and there is a lot of stress, anxiety, possibly even sadness involved. Not just for the resident going in, but for those who are close or who help take care of the individual. However, Palm Cottages is different. We truly have a wonderful community of caring staff and residents who lift each other up. 
In addition to our very inviting-styled housing, we provide plenty of activities to keep our residents engaged. We aim to be a senior care facility that people can thrive and grow in. If you take a look at our gallery, you will see nothing but smiling faces from individuals who want to continue to make the most of life. At Palm Cottages, you will also find an events calendar that shows different activities our residents can participate in each day.
Contact Us Today
Our senior care facility is only a short drive away from Viera West, FL. We encourage you to schedule a tour of our facility. Please feel free to give us a call as well to discuss your loved one's needs and find out more information about the facility and the care we offer.