Alzheimer's disease is a terrible condition that affects the person with it and many people around them. Unfortunately, this condition causes a tremendous amount of stress for everyone involved, not just the person with Alzheimer's. It often requires caregivers to exhaust a lot of their time and money to keep their loved one healthy and happy.  In many cases, the caregivers are willing to put in time, effort and energy, but the task can become too much. Sometimes you need help with providing the specialized care your loved one needs to live their best life.
When it gets to that point, sometimes the best option is to think about a specialized home for your loved one. It can be a scary thought, but here at Palm Cottages, we are an Alzheimer's care facility that is different from the rest! Proudly welcoming our neighbors in the Merritt Island, FL, community, our assisted living facility offers full service Alzheimer's care that our residents get the benefit of our wonderful community, cottage-style housing and caring staff while being treated with specialized memory care programs that will help improve their quality of life.

Scheduled Care
One of the biggest benefits of relying on our Alzheimer's care facility is our medication schedule. This is very important for our residents; we can ensure they get the proper medication, in the correct amount, at the correct time. Our meal schedules are also set at the right time, to make sure our residents are not overeating or aren't eating at all, which can often become a problem with those with Alzheimer's. It's small things like that that provide patients with the memory care they need.
Our Alzheimer's Care Community
Our Alzheimer's patients have their own cottages that are joined by a courtyard, so they can have access to the outdoors in a safe, controlled environment. Outdoor time is important and valuable to us. This is not always achievable at other large, U-shaped, brick building facilities.
But Palm Cottages is unique. Our housing is quaint, inviting, relaxing and fun. We make sure to have plenty to do, offering activities, family-style dinners and much more. We have a calendar of events, so you can see what your loved one will be participating in each day, each week and each month.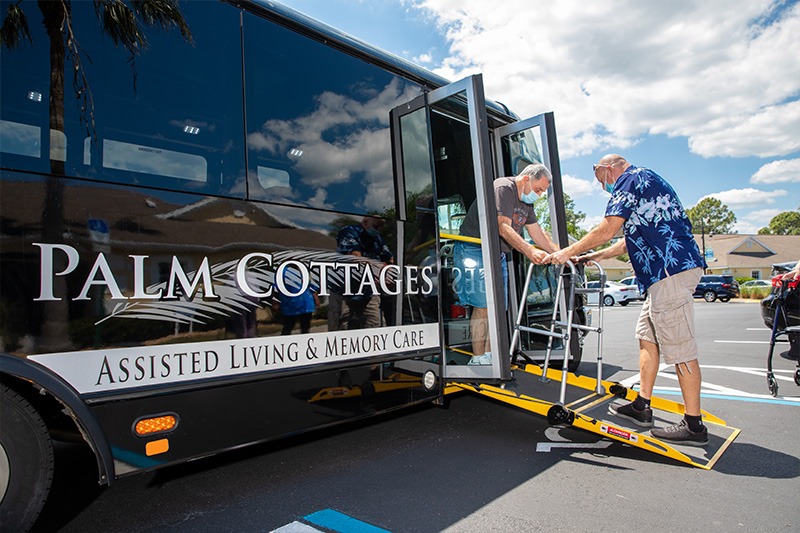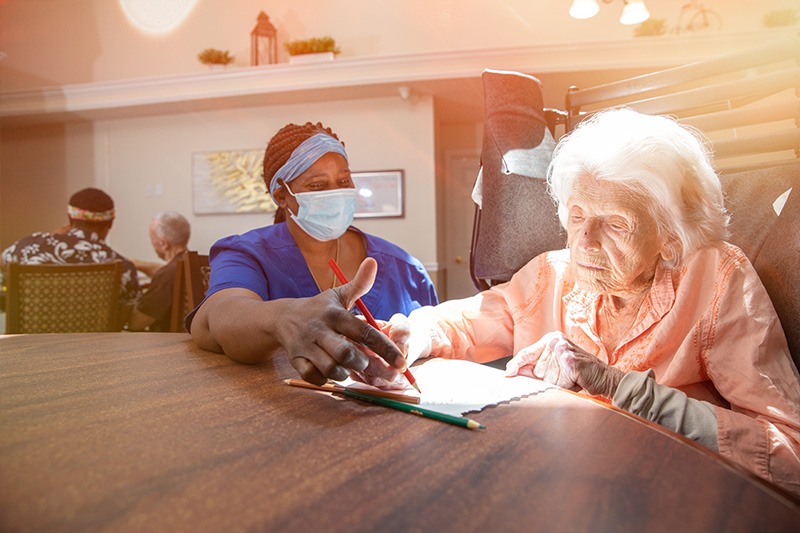 Our residents are encouraged to participate in activities and programs throughout the day.

The resident care staff have completed comprehensive training in order to provide the specialized care and services that our residents benefit from.

Our memory care cottages are connected by a courtyard area, allowing our residents the freedom to safely take outdoor strolls.

Palm Cottages is an ECC licensed facility.

We provide delicious, chef prepared meals multiple times a day.

We offer personalized Alzheimer's treatment services.

Every month we have an event calendar of planned activities for residents to participate in.
Contact Us Today
If you are in the Merritt Island, FL, area looking for an Alzheimer's care facility; we are not far. With a short 10-15 minute drive, you can come tour our cottages and see our wonderful community for yourself. We have a saying here: happy aging is our agenda. We do all we can to make this a reality for your loved one.
Call us today and discuss your needs with us! Find out if our Alzheimer's care facility is the right fit for you or your loved one.