Dementia & Alzheimer's Care Services For Florida
If you are in Florida, and your loved one needs a memory care home, rely on Palm Cottages. We provide advanced memory care services to our friends and neighbors in Florida. Our memory care living cottages take an unfortunate situation and make the most of it, as much as possible. We provide a welcoming, loving, and engaging environment for our residents with a full-service memory care staff. This combination of high quality memory care service and unique, quaint, and peaceful cottages make for a living situation that will help promote happiness for each resident.

Oftentimes, Alzheimer's disease and Dementia put tremendous stress on not only the affected person, but those around them. Their loved ones and support system feel the burden financially and emotionally. Our assisted living facility goes above and beyond by providing treatments and care for those who need our memory care services. We have programs and treatments specifically designed for Alezheimer's and dementia residents who need the extra care so they can continue to live as best a life as possible and age happily.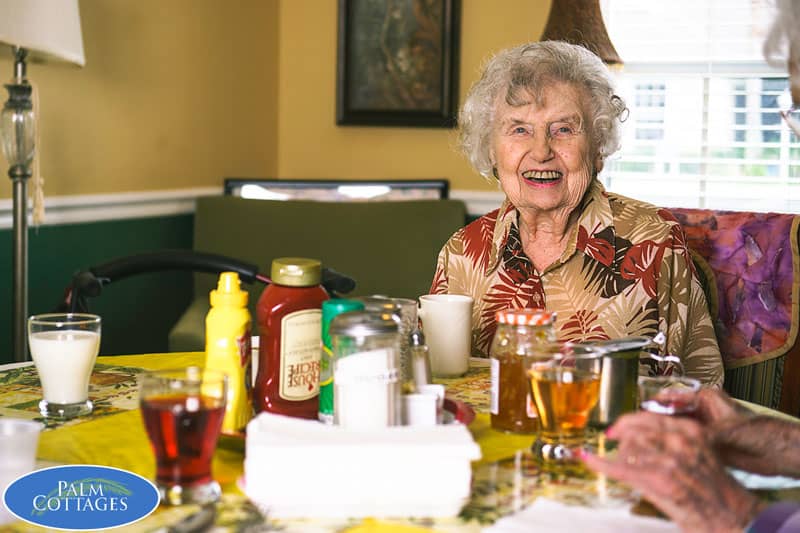 More About The Facility
Our assisted living facility is unique by design. Instead of a classic U-shaped facility in a big brick building, our residents live in quaint, welcoming cottages where they can live in paradise. For our memory care residents, the cottages are connected via courtyard to promote a safe outdoor area for our memory care residents to gather. Our meals are prepared by chefs who not only make delicious meals, but also take the time to get to know the residents so they can interact with them on a personal level. Our chefs are all very friendly which helps further promote the kind of atmosphere at Palm Cottages that will help our residents be happy!
Contact Us
If you are in the state of Florida and are looking for a memory care living facility that is different than most, consider Palm Cottages. We are a very short drive to many of our surrounding areas and welcome anyone from anywhere in Florida to schedule a visit and tour of our cottages. If you would like to see them before coming for a visit, please check out our gallery.