Unique Assisted Living Facility in Florida
Cape Canaveral is a beautiful and exciting place to live in Florida. Moving a loved one from Cape Canaveral may seem unfavorable. However, our assisted living facility is very close by, making the possibility for visiting very easy. There are a few important things to consider when looking for an assisted living facility. One of them, is the kind of housing. It has been shown that houses clustered together rather than a large single building can promote a higher quality of living. We also believe that it is important for our residents to be involved with family. Whether it is a quick visit from you, or the community they will find themselves in, being close by always provides an option for a visitor and a connection that can make their day!
When your loved one has aged to the point where they need to move into an assisted living facility, why not pick a place that emphasizes the Florida lifestyle? Palm Cottages is your solution! Our facility is more than just a facility. We are a network of cottage-style houses with all the amenities and professional staff of the large brick building assisted living facilities. Our quaint, unique cottages will help your loved one still feel at home. We are a short drive from Cape Canaveral and welcome you to tour our facility!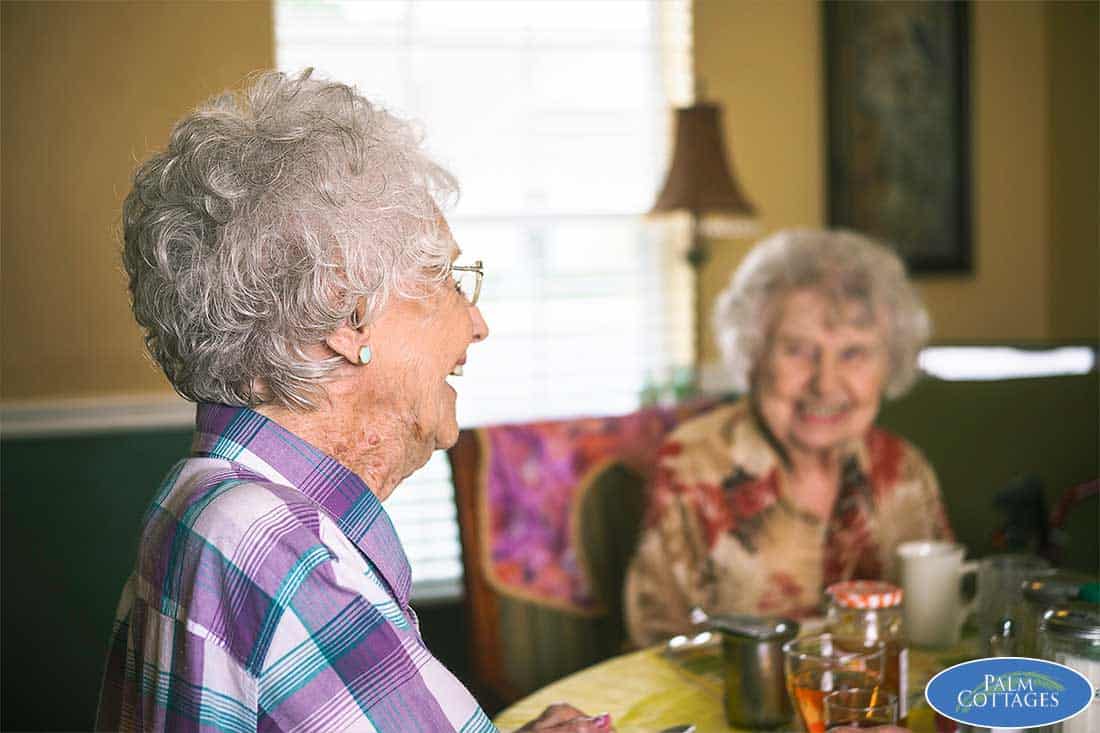 A Community Feel
Community is essential at Palm Cottages. Our residents are able to participate in family-style dining and to get involved in some of the activities that are held every day. This gives residents a chance to stay mentally and physically active while also seeing other members of our assisted living community. Additionally, residents are able to go outside and enjoy the adjoining courtyard safely.
You can view our current month schedule for both our assisted living residents and for our memory care residents here. 
Our Caring Staff
We have a wonderful staff here at Palm Cottages. Even though our housing is in cottage-style homes, we have a professional staff that is well trained to handle all kinds of assisted living needs from our residents. We also have a full-service memory care program, with staff that specializes in caring for residents with dementia and Alzheimer's. This is one of the ways we are able to maintain our ECC license, by our amazing staff. Our staff-to-resident ratio is also favorable compared to most assisted living facilities. Even our chefs take the time to meet our residents so they can get to know them and become another friendly face around the cottages!
Come For A Visit
We welcome our neighbors in Cape Canaveral to come by and visit our facility. Please schedule a guided tour to come see all the wonderful things we have to offer for your loved one. Or call us for more information!